OK, Lights! Camera! Action!

Step 1: Prepare the video file
Any video clip that you can save to your computer will work. I usually work with .mpg video files or .mov movie files because they easily go in and out of Quicktime Pro.

Simply put, a digitized video that you see on your computer is nothing more than a number of still images in sequence. Granted, it may be a large number of images, but, none the less, they are still images. When you open the video in Quicktime Pro you can export the entire video as individual jpg images with just one click.

First open your video file in Quicktime Pro.
Under the 'File' menu, select 'Export'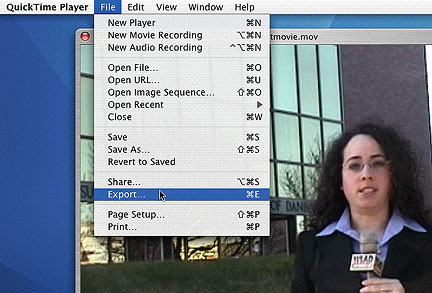 From the dialog box that appears, choose 'Movie to Image Sequence' from the pop up menu. This step will automatically convert the video into individual images.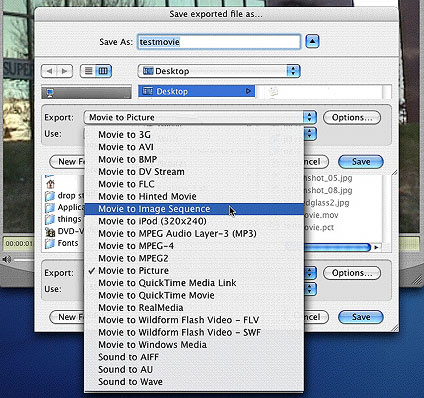 There are some options to select that will make you project easier to work with. Click the 'Options...' button and select JPEG for the format.

When you select JPEG for the format, another 'Options...' button will become available. Select the "Options...' and then select 'Best Depth' for the JPEG image quality. This will help insure that the project produces the best results.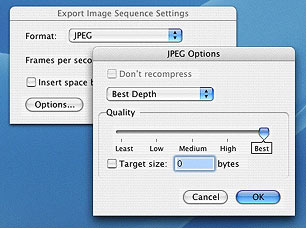 After you click the 'OK' button you will need to select a frame rate.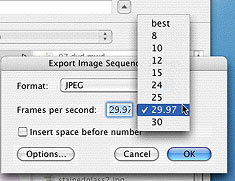 Select 29.97 Frames Per Second (FPS). You can use a lower number for the Frames per Second. In fact, if you're planning to use the Photoshop video online or in a web environment, 24 or 18 FPS will still provide a good effect.

At 30 FPS, Quicktime will make 30 still images for every second of video in the clip. By using a lower number, fewer still images will be generated and ultimately provide a smaller file size. However, note that with a higher number of FPS selected, a smoother, more video-like effect will be achieved. I've used 24 FPS for the sample movies created with this tutorial.

One last, but important, tip for this step. Select the button to save these still images in a 'New Folder'. I once made the mistake of not selecting a folder and found about a thousand JPEG images all over the desktop. Need I say more?

If there is audio on your video clip and you would want it in the final stylized video, also do the following:

Under the 'Edit' menu, select 'Export' and choose 'Sound to AIFF'.

Save the file. This will be needed later on.