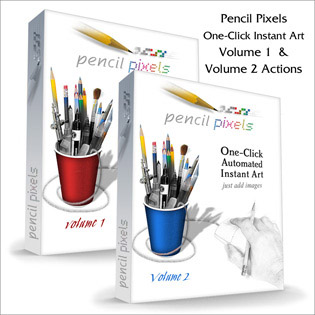 click image for larger view

Volume 1 includes:
20 Actions with 18 additional variations.

Volume 2 includes:
Over 40 Actions and variations.

English language version Photoshop only

• PSD layers are available for modification. Transform your photos into various art styles by using these Action Effects or our services. Bloggers, designers, portrait and sports photographers can easily increase sales by offering specialty art products.

• Best suited for web and social media images.

• PencilPixel Actions have been tested on OS X and Windows, for Photoshop CS1 through CS6 & CC.

Volume 1 and Volume 2 Actions Discount Bundle

Save 20%

One Click Instant Art Actions. Over 60 Actions - Includes all the actions from The combined mini packages of Easy Pencils, Watercolor, Stained Glass, Metals & Foils, Painting, Roughs/Chalks, Toon-Comics and more.


The complete list of Volume 1 actions are:
Watercolor Hard - Soft - Vivid
Toon Styled Poster Art
Chalk on Cardboard & Color Chalk on Cardboard
Color Marker Drawing
Rough Color Drawing
Rough Pencil
In the style of Leroy Neiman - Contrast & Styled
Blueprint
Tintype & Tintype Smoother
NotePaper
Pencil #1, #2, #3 & #4 effects
Rough - Thin - Wet Pencil Shading
Etch - Sepia Etch & Sepia Sketch
60's Poster - Steel Poster - Gold Metal Poster
Pixels Base Color & Pixels on Gold
Metal Gold & Pewter
Hammered Steel
Color Foil
Shine
Crinkle Edge
Parchment Overlay
Selection Edge Mask


The complete list of Volume 2 actions are:
Painting
Oil Paint
Acrylic
Painting Base 1 - Painting Base 2 - Paint Strokes
Brush Texture
Canvas Texture
Paper Surface
Plastic Sun Catcher
Chagall Windows - 1, 2, 3, 4
Simple Glass - Jewel Glass - Stained Plastic
Diffusion Glass - [Multi-File]
Gel Window Decore
Stained Glass - v1, v2, v3, v4, v5, v6
Glass Frames
Sunlight Accents
Toon Poster 1 - Toon Poster 2
Styled Poster
Toon Postern Smooth
Comicbook 1 - [Multi-File]
Comicbook 2
Sunday Comics - [Multi-File]
Comic-Poster blend